Installation
The Woo Partial.ly plugin for WooCommerce allows you accept Partial.ly payment plans in your shop in a variety of customizable ways. To install it, go to your wordpress admin, then click plugins. Search for "Partial.ly" and install our plugin. You can also install it directly from Woo Partial.ly plugin listing.
Settings
After you have installed the plugin, you can find the settings by going to your wordpress admin, hovering over the WooCommerce link on the side menu, then clicking Settings. From the WooCommerce settings page, click the Checkout tab, this may be listed as Payments. Then the Partial.ly Payment Plans link at the top.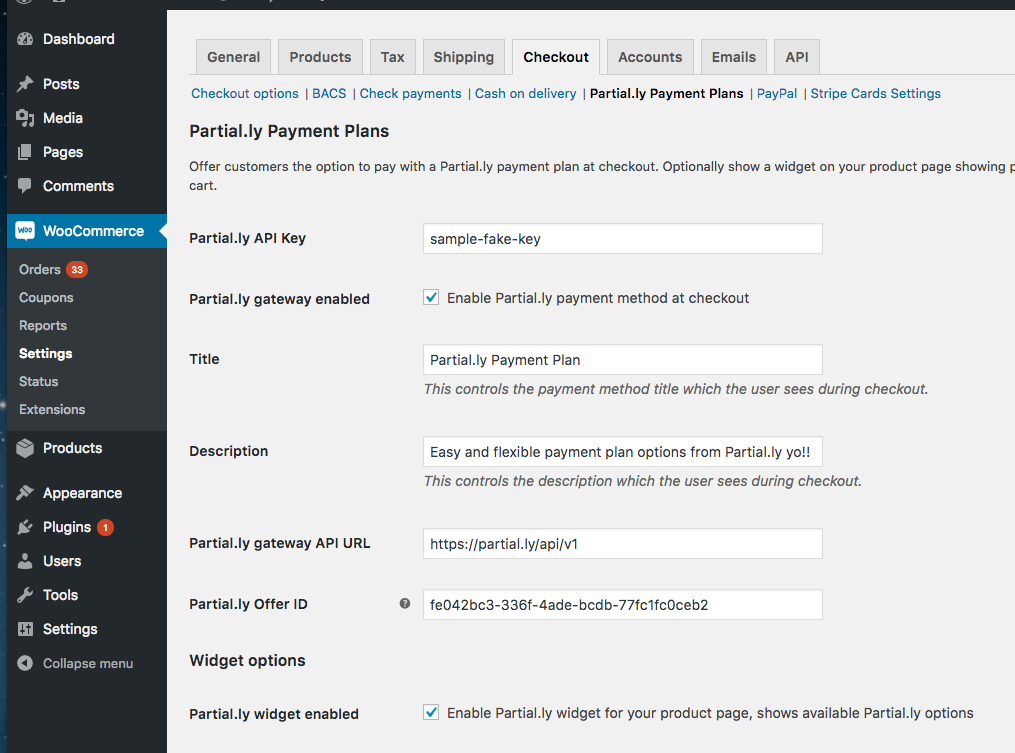 Options
Partial.ly API Key If you are using the Partial.ly gateway on your checkout, you need to get your API Key from your Partial.ly merchant portal and copy them here
Partial.ly gateway enabled check this box to enable a Partial.ly payment plan option in your checkout
Title if the gateway is enabled, this is the title displayed to customers at checkout
Description an additional description shown to the customer at checkout when Partial.ly is selected
Partial.ly gateway API URL Generally does not need to be changed, unless you want to use our test environment
Partial.ly Offer ID this is the offer to use for all Partial.ly functionality: gateway, widget, and checkout button. Copy and paste the id from your Partial.ly merchant portal, or if you've connected your Partial.ly API select your offer from the dropdown list.
Widget and Checkout button options
The following options allow you to include, exclude, or customize the Partial.ly widget and checkout button on your WooCommerce shop.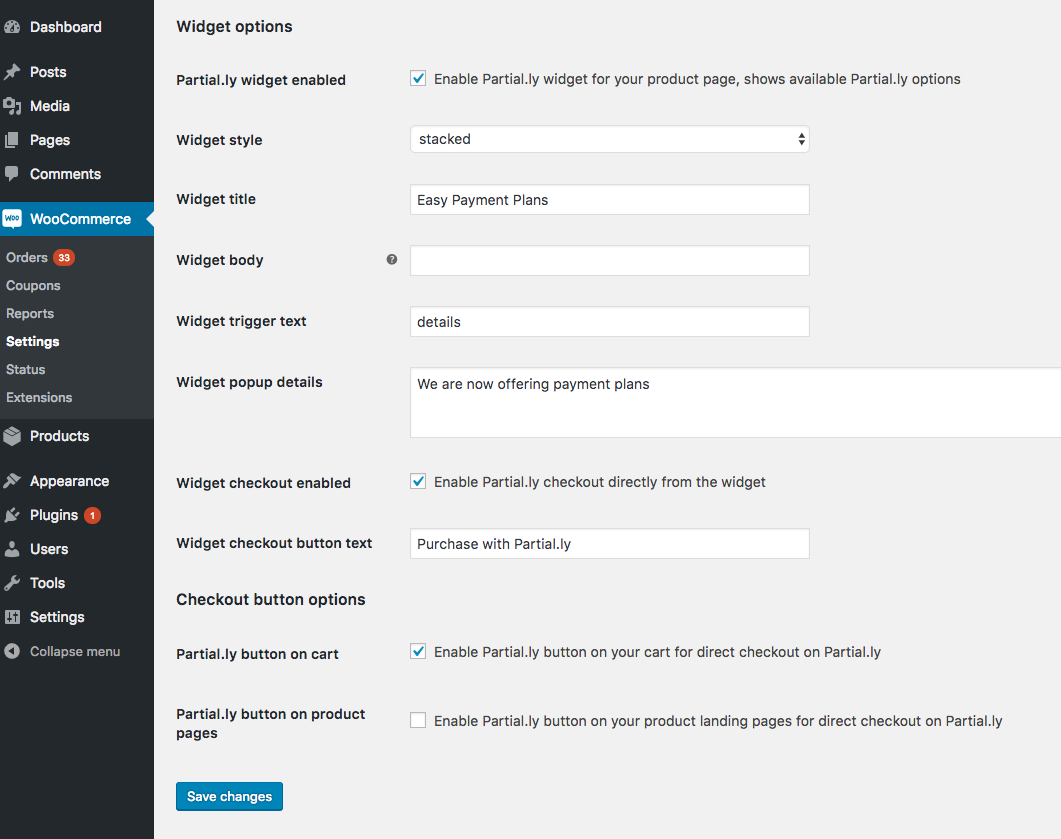 Partial.ly widget enabled check this box to automatically include the Partial.ly widget on your product pages.
Widget style choose different styles for the widget
Widget title if using the "stacked" style, this will be the title text
Widget body custom text for the widget. Leave blank for the default, dynamic text recommended
Widget trigger text the text of the link generated to open the widget popup
Widget popup details custom text to display at the top of the widget popup
Widget checkout enabled include a Partial.ly checkout button in the widget popup
Widget checkout button text text of the widget popup checkout button
Partial.ly button on cart enable a Partial.ly checkout button on the cart page
Partial.ly button on product pages include a Partial.ly checkout button on the product landing page